Cybersecurity has quickly become one of the most lucrative business areas in the technology field. Given the expansion of IoT and the increase in AI, the breadth of items, as well as websites, susceptible to cyberattacks is alarming. As a result, businesses have had to increase measures to protect their business processes and information. At Berezha Security, we are dedicated to helping companies defend themselves against cybercrime.
Based out of Kyiv, Ukraine, our team has completed more than 70 projects and has partnered with 45 clients. We have clients in a wide variety of industries including IT, banking, agriculture, and legal services. No matter what level a company is at with its cybersecurity, it can benefit from external consultation. Due to our success with our clients, Clutch, a Washington, D.C.-based ratings and reviews firm, has named us as a leader among cybersecurity companies. On the Clutch platform, we have been given a perfect 5.0-star rating! One of our most recent projects involved conducting a security assessment and testing of a website application for a technology platform. We were given a 5.0 rating by this firm!
We were praised on our ability to stay organized and proactive, all while communicating the progress of our project. "They're extremely focused on mitigation and actually provide concrete solutions. Rather than just pointing out where our platform is broken, they offer valuable feedback around how we can fix it," said the CEO of the platform. Another one of our satisfied clients is SoftServe, a software development company. We conducted an independent validation of SoftServe's network. This included penetration testing and an evaluation of the company from a hacker's perspective. Again, earned a 5.0 rating. Check out what SoftServe has to say about our partnership below!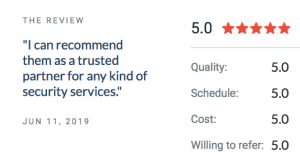 "I'm impressed by the Berezha Security's speed, maturity, and readiness to provide additional advice free of charge," said the Information Security Director at SoftServe. Along with our Clutch page, we can be found on Clutch's sister sites, The Manifest and Visual Objects. The Manifest is a type of business news platform that features us at among the top cybersecurity consultants. Visual Objects ranks industry leaders according to their Clutch rating, while also posting a portfolio of their previous work. The entire team at Berezha Security is very thankful for our clients taking the time out of their busy days to provide us with feedback.
The reviews we receive help us improve and help expand our network by attracting new clients! "We appreciate the reviews and value the feedback we get and can use to gradually improve our practices. And it is especially important to every team member to get factual results from the clients directly, and the reviews are a great channel for that," said Vlad Styran, Co-Founder of Berezha Security. If your company could benefit from an increase in cybersecurity or you would like to know more about our services, contact us today!