We are happy to announce that registration for the BSG web application pentester training is open, and the new group starts the pentester training this autumn 2021.
If you plan to reach new career horizons in cybersecurity, we will help you to consider a proper decision by answering the most frequently asked questions:
Will I benefit from the BSG pentester course?
Yes, you will benefit from the training program in case you are:
A junior security professional or learner of web application penetration testing grounds
Planning to start a career in cybersecurity
An IT pro and looking to advance your skills in application security to build more secure web applications
A student major in IT studying at a Ukrainian university
Changing your current job (QA, programming, DevOps, etc.) to a career in cybersecurity.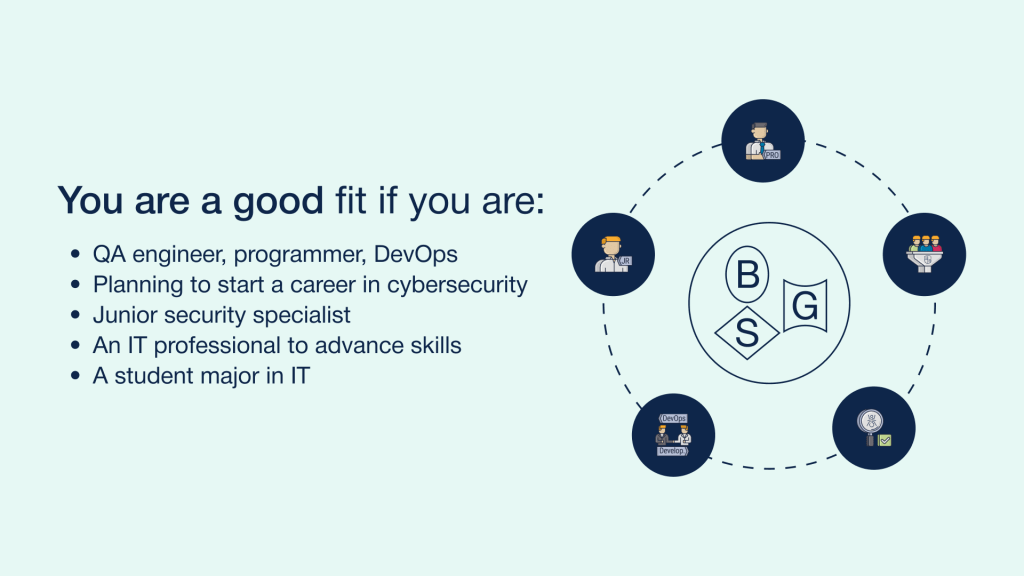 Why the BSG team is managed to conduct a penetration testing course?
The classes are assigned to the BSG security professionals experienced in some specific topic. All our trainers have day-to-day hands-on experience in web application security and penetration testing. They hold prestigious professional certificates (OSCP, CISSP, CISA, etc.). Also, the trainers have vast public speaking experience at professional cybersecurity conferences (OWASP Kyiv, NoNameCon). That's why we deliver the most practical training experience to all our students.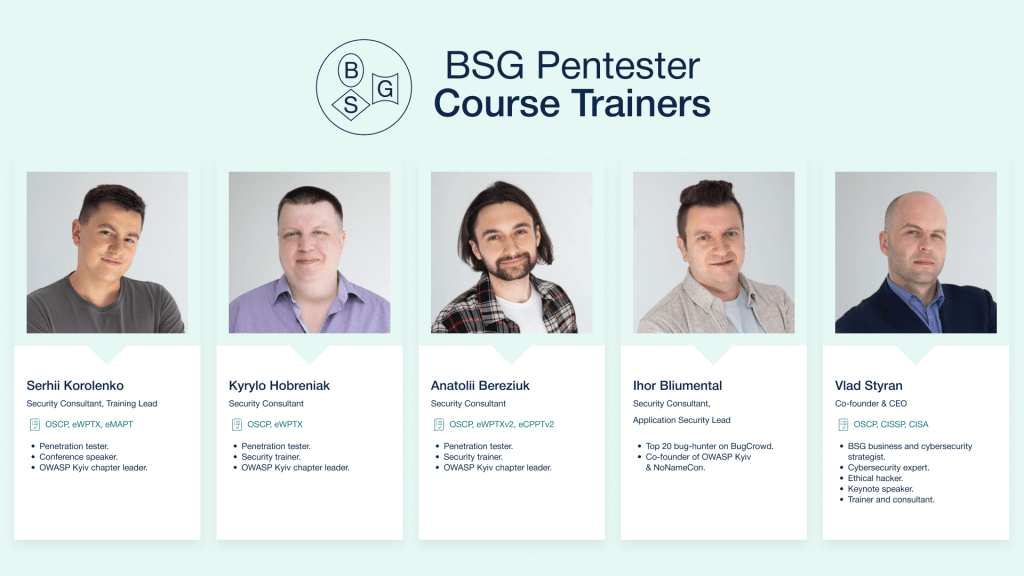 Will I succeed if I have no experience in cybersecurity?
Yes! You will get the finest result if you have prior IT-related knowledge and basic JavaScript, SQL, HTML, HTTP skills. The training program is designed for an audience without a background in application security. All security-related topics will be studied during the pentester training course. Find out more about prior knowledge needed before the course.
What is the agenda of the Web Application Pentester Course?
The agenda of the BWAPT course is divided into two modules – Module 1, which consists of 8 practical lessons, and Module 2, which includes 5 classes and is mostly about deep dives in application security and pentester exam preparation to obtain the BSG Web Application Penetration Tester certificate (BWAPT).
Module 1 uncovers application security and penetration testing basics, reconnaissance, access controls, server, client-side attacks, cryptography, and business logic topics.
Module 2 expands skills to attacks on web services, deep dives in client-side attacks and injection attacks, cloud penetration testing, reporting, and risk management.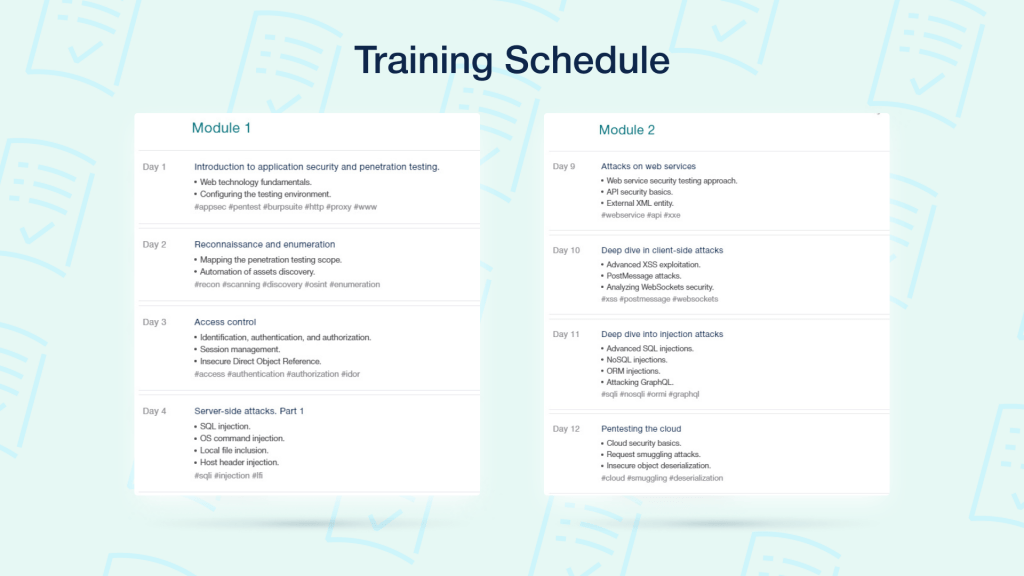 Is the pentester training more practical than theoretical?
The course is built on practical classes and online labs. The home assignments are aimed at strengthening students' understanding of the material on practice. Tutors support students with all the questions till the course ends and during the exam preparation.
Does the web application pentester course include a test or final exam?
Yes! All the students will get a certificate of attendance at the end of their penetration testing training. The certificate of achievement is issued upon successful completion of the course and passing the final exam.
The final exam includes a week-long real-world web application pentest in the virtual lab. The successful completion of the course is considered a pentest report with a description of all security vulnerabilities and remediation steps that have been taken.
Is this course for pentesters in-person or remote, and how can I communicate with tutors?
The BSG Web Application Security Training is entirely remote. Classes were recorded on Zoom and privately stored on YouTube. Berezha Security trainers assist students with successful labs and exam completion.
The BWAPT training statistics declare the following success rate of the exam completion: 20 of 25 students (82.5%) have successfully passed the exam. Students of the last group are ending the exam during these dates.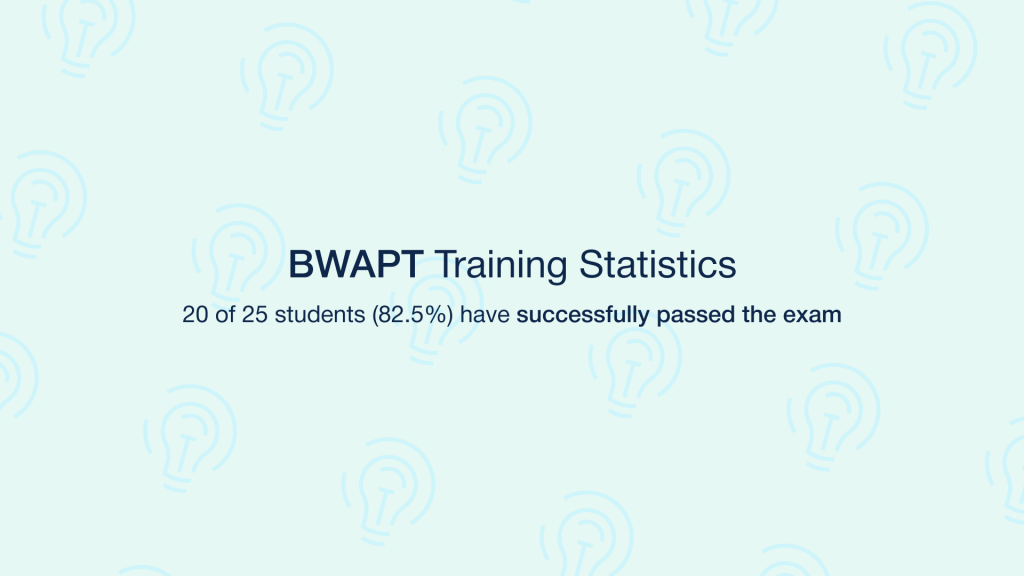 Can I find a job after the training for pentesters?
Yes, you can! All the students can pretend on a junior penetration tester position, position of cybersecurity analyst, or bug bounty hunter.
Watch the BSG demo lesson video from our last pentester course.
Get in touch with us at [email protected] or learn more about BWAPT training on the Berezha Security Group website.
Stay safe.