Anyone who has to deal with potential customers happens to get requests for references. And one knows how tricky it may be to provide them securely. Especially in such a sensitive industry as application security. How can you show the world that your customers are satisfied with your work and not upset your customers by doing this at the same time. At Berezha Security, we decided to use the Clutch platform. Clutch is a B2B solution for requesting and providing feedback on business collaboration. It solves a couple of issues with a standard referral approach:
t

he feedback is a quotation – you see the direct speech from the customer and what he wanted to say, not what the marketing person wants him to seem have said;

 

the reaction from different customers is structured similarly, so you can see an average score sliced to specific important areas, see answers to the same questions and compare;

the feedback is always available – you don't need to get in touch with the reference person, who usually has a busy schedule;

the feedback may be anonymous but yet reliable.
Of course, to face honest feedback on Clutch, your business has to be mature and of high quality. To give you an impression of what Clutch references look like, let us share some excerpts from our latest customer feedback:
After a credit card processing company updated their app, Berezha Security assessed the solution and new functionalities for security risks. They ensured that the app was up to OWASP Top 10 standards.

The vendor's testers are experienced and knowledgeable in security testing and secure technics of software code development.

During project 2 high-risk vulnerabilities were identified, repaired and re-tested.

The communication was easy and on time. We were informed about identified vulnerabilities before a formal report was ready and had enough time to resolve these vulnerabilities.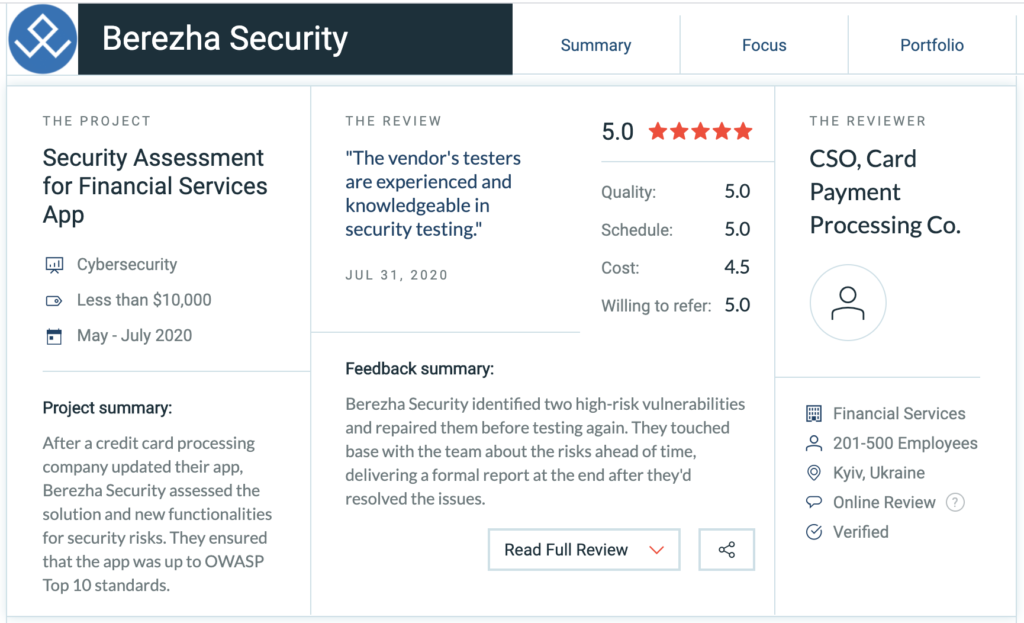 Would you like to try giving us feedback on Clutch? 🙂